LOVE FRENCH COUNTRY DECORATING STYLE? GO FROM ADMIRING TO DOING IT FOR YOUR HOME. HERE ARE 7 TIPS TO HELP YOU MASTER THE ART OF FRENCH COUNTRY DECORATING.
French country decorating is a delicate balance of sophistication and elegance with practicality and comfort. It is also at the peak of popularity for stylish interior decorating, gracing the likes of Elle Decor. Getting the right balance can be difficult to achieve if you don't know what you're doing.
Keep reading for seven essential tips to help you create the perfect French country home decor in your home.
1. French Country Decorating Color Palette
The main goal is to stick with light colors and lots of neutrals. Dove grey and creams are the dominant colors in your color palette for decorating in French country style. Use pastels like sage green, lavender, pale yellow, and robin's egg blue sparingly as accent colors. Aim to use textures to break up the neutral colors.
Texture can be found in the upholstery, rugs, throws, pillows, and other textiles you fill your rooms with. Use plants to add color in a natural and unobtrusive way.
2. Whitewashed Wood Furniture
Real French country style furniture has been lovingly used and worn away from years of use in a French farmhouse. Buy whitewashed furniture to replicate this look of aged furniture. Look for pieces that are aged and avoid anything shiny and polished. If whitewashing isn't your style look for weathered wood pieces made from oak or hickory.
3. Toile Print
It's a weird name for a fabric that is instantly recognizable as French country style. It is usually linen fabric with a blue, black, or red print. The print will almost always feature florals, figures, and the French landscape. The design is intricate in detail and the pattern repeats across the breadth of the fabric.
You'll find the toile pattern on all type of fabric uses such as upholstery, window treatments, bedding, pillows, and dining linens. The intricate design gives visual interest and depth to an otherwise simple palette of neutrals. Pair the patter with other more simplified textures and patterns. Stripes and florals are a solid choice.
4. Linen Fabric Sofas
Look for linen fabrics that will give a light and airy feel to your home. The linen will add texture to your French country home decor. Try using it as curtains to frame your windows. Use some to drape over your couch, loveseat, chair, or bench. Look for accenting pieces like linen pillows to add a touch of relaxed elegance. The idea is to add a touch of light warmth to the room.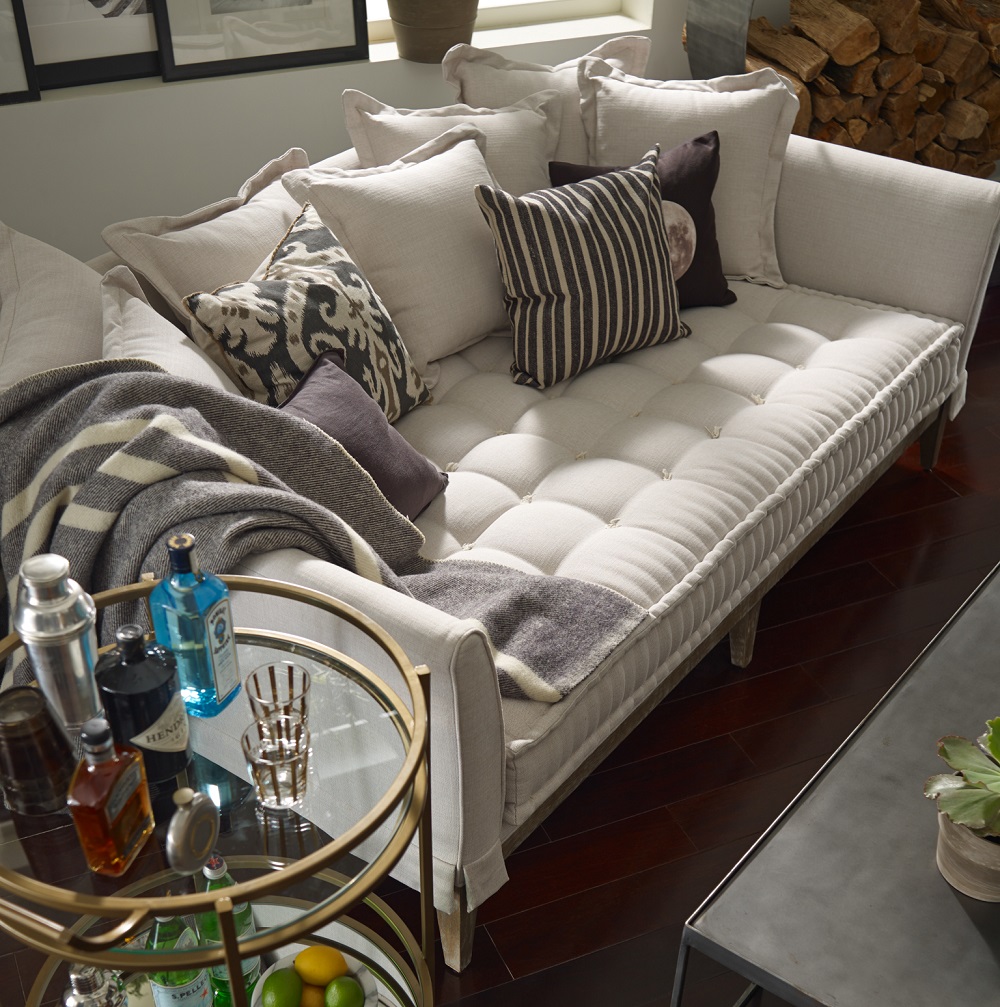 5.Antiqued Furniture
The furniture you select should give you a sense of old-world sophistication. You will see furled wood trim, scrollwork in the details, and solid construction.Look for furniture that is in line with the French Rococo style. There should be a casual and neutral feel to the furniture you choose. The whitewashing effect should give the furniture a slight weather look. While the tufted upholstery gives the furniture a warm, inviting, and cozy feel.
Coffee Table
A coffee table in the style of country French decor is going to be inviting and cozy for your guests. As with the other furniture look for whitewashed wood. Sturdy construction is a hallmark of coffee tables made in this style. As is the tufted cushion on the top that easily functions as extra seating.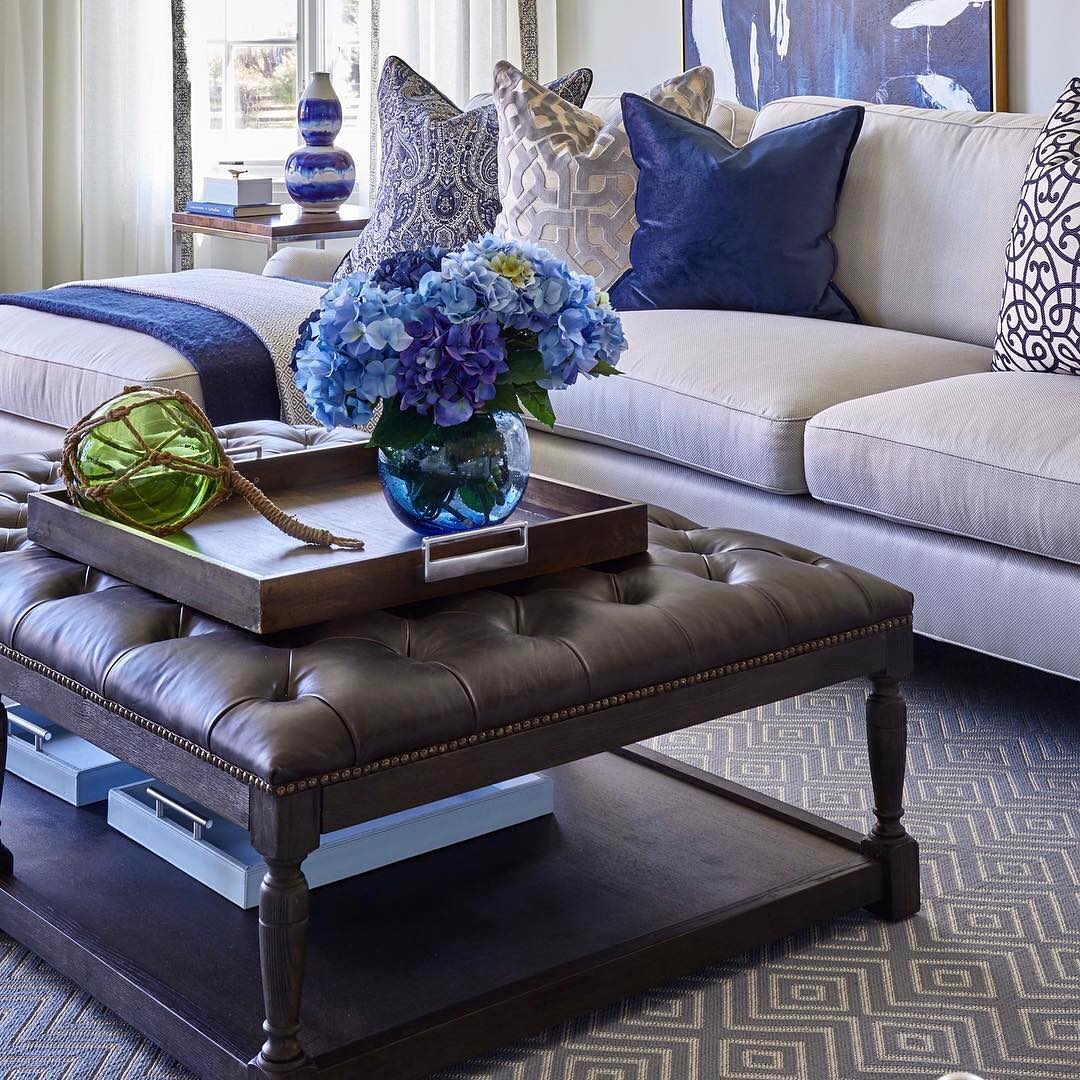 Buffet Sideboards
Every traditional French farmhouse has a buffet or china cabinet to store the table linens and dishware. You can probably guess what comes next, look for a whitewashed one. The doors will usually have a lattice pattern to them. But you can also find them with wrought iron decorative work on the doors. For a touch of modern feel while keeping in theme, consider this buffet that is painted a delicate pale blue inside.
For a modern twist on the French country decorating, look for a bar cabinet. A solid hardwood with bisque doors is line with midcentury Paris decor.
Dining Tables
The French celebrate an inspired culinary and wine culture in their daily lives, without pretense or self-consciousness. This tradition is apparent in the kitchen as well as the dining room, where a great dining table is the essential stage for savoring and celebrating great food and wine with friends and family. A classic French country style dining table tends to be on the larger side, to accommodate larger groups and to function as a central meeting point for snacking and chatting as well as sitting down to formal meals.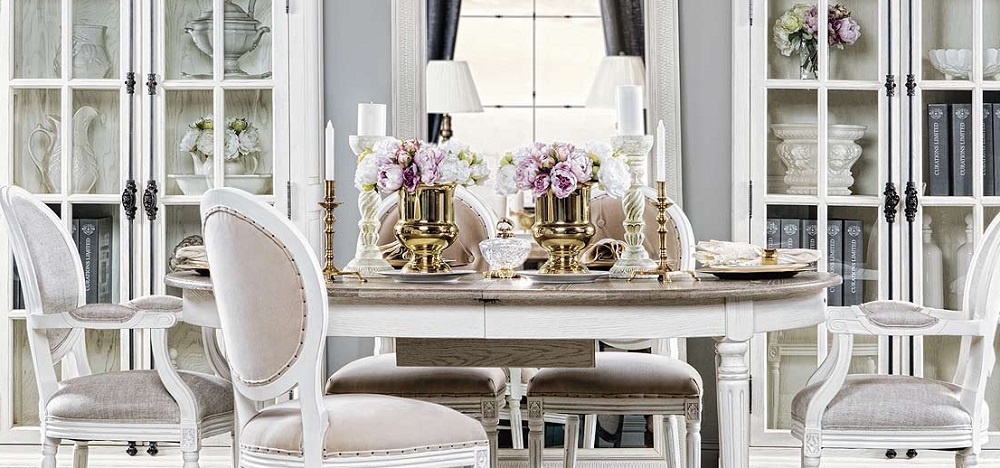 Benches
Items that are practical are key to the French country decor. Look for a sturdy bench that offers you a place to sit while dressing, or removing muddy boots in your entry. If you find a bench that has storage abilities you'll be even more authentic while gaining storage in your home. Look for a bench that has tufted neutral linen upholstered on the top.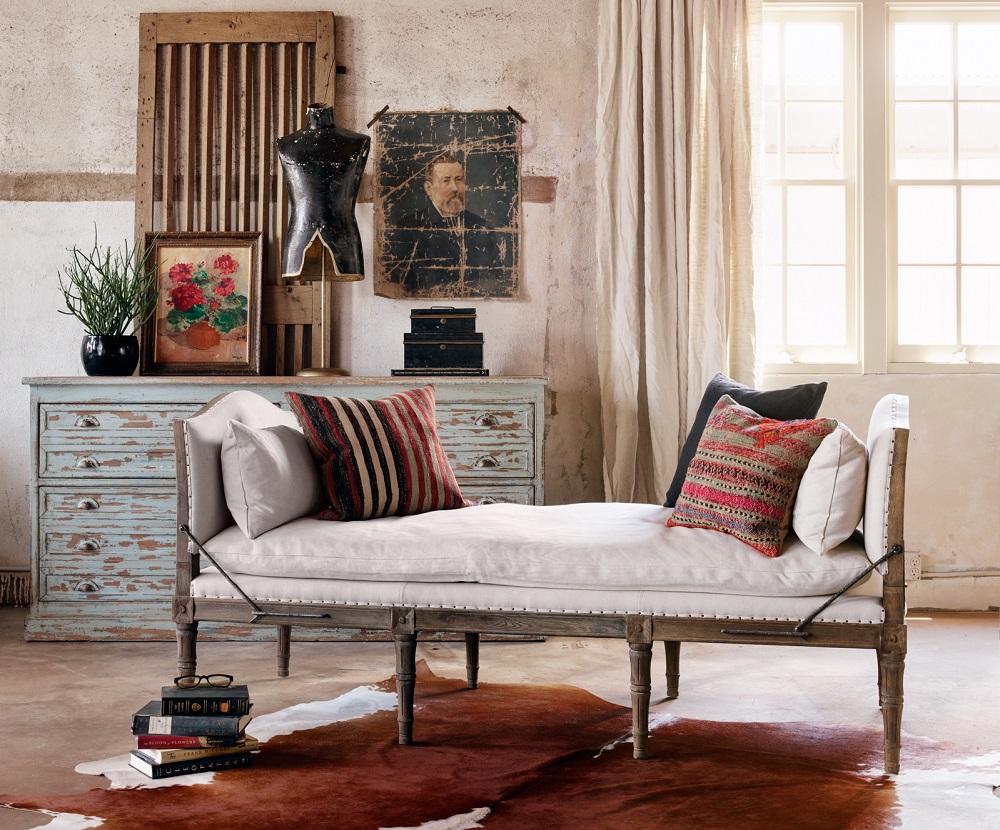 Bed Frames
This is the perfect time to look for the intricate details and furled scrollwork we mentioned earlier. Look for a bed frame with curved silhouettes. A popular style these days is to choose a headboard and footboard that are tufted upholstered with a cream or neutral fabric.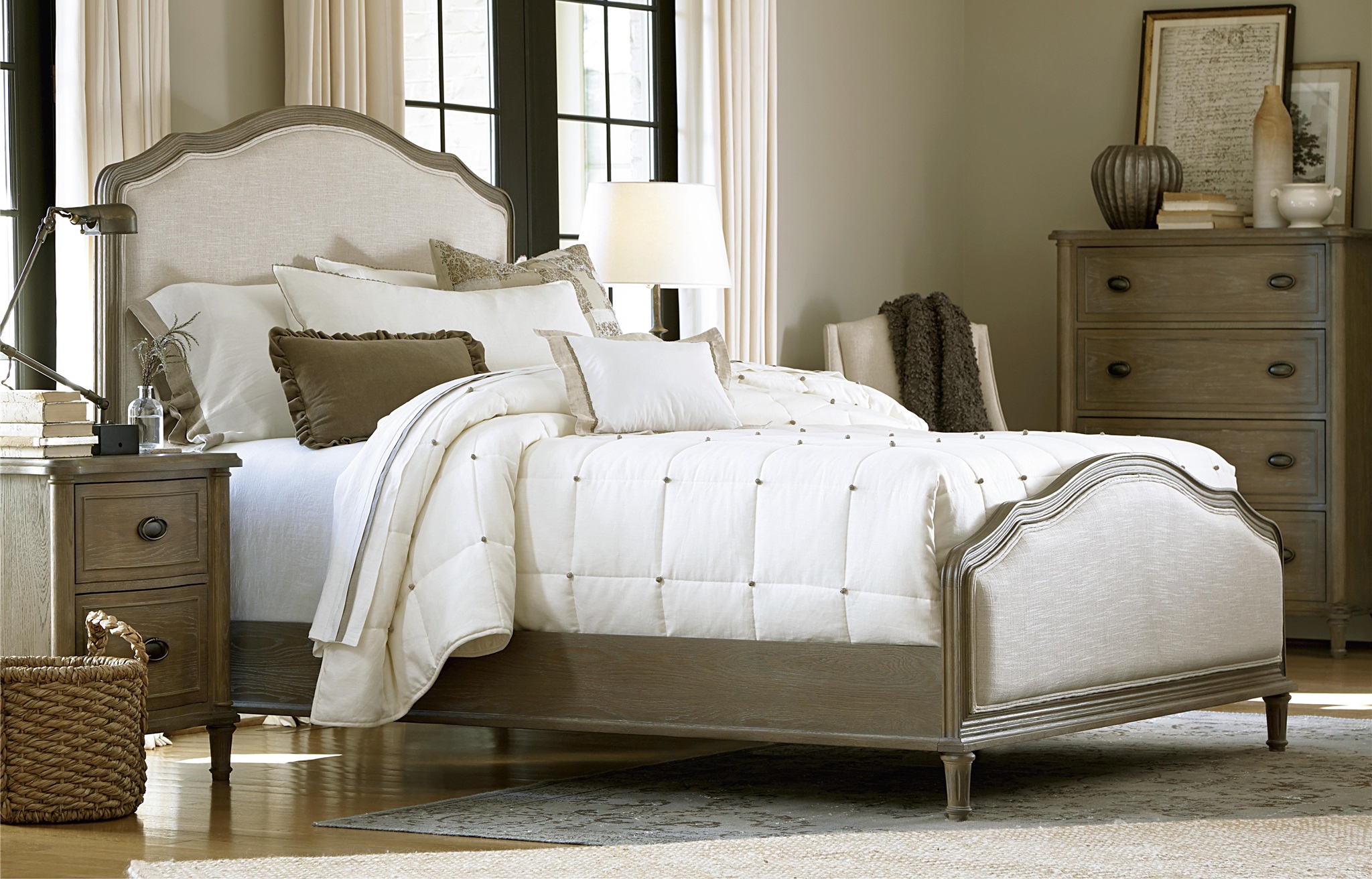 6. Botanical Elements
A key characteristic of French country decorating is to merge the indoor and outdoor together into one space. The idea is that your country cottage blends into the countryside. Hang prints of vintage floral prints as art on the walls. Accent the room with a couple potted plants. Use creative containers to pot the plants. A wooden milk crate or mason jars are perfect for adding a rustic feel to the plants.
7. Birdcages and Roosters
Roosters are a staple in any farmhouse so adding a few roosters to your kitchen brings that energy to your more urban abode. Look for a vintage, or vintage style metal birdcage to add a touch of whimsy and springtime to your country French decor. Use the birdcage to house one of the potted plants we mentioned earlier.
Birdcages that have a unique feature are perfect for this task. Look for one with a white finish, or paint one white. Choose a classic silhouette with wrought ironwork.
Choose Your Furniture Pieces
Look for sturdy wood pieces that look weathered or aged, preferably whitewashed. Large furniture items will have linen tuft linen upholstery and scrollwork detailing. Keep the color palette of your French country decorating to neutrals with touches of pastels or earth inspired tones. Use texture and patterns to add interest to the room. Look for the iconic toile patterned fabric to finish the window treatments. Finally, add accent pieces to the room such as potted plants and birdcages.
Start creating your French country haven at home today.